OrangeMonkie Foldio3 Review
The OrangeMonkie Foldio is a small and portable light box setup that is primarily used for product photography. The Foldio is meant for both professional and amateurs alike to create excellent photographs with a white or black backdrop – the lightbox also comes with LED strips attached to the top of the box to light up all of your products from the top down creating a nice shadowless look.
I've always been impressed with the OrangeMonkie Foldio products since noticing their Kickstarter for a previous iteration a couple of years ago. I picked up a Foldio2 and used it as a cheap and effective way to complete a myriad of photography tasks – from personal classifieds to small product photography assignments – the Foldio2 was able to complete them quite effortlessly.
The only real issue I ever had with it was size. The Foldio2 couldn't really complete tasks for objects that were about the same size or larger than a pair of shoes. The magnets as well – although excellent at the time for creating a portable lightbox – were a little flimsy and didn't always attach correctly leading to one side of the lightbox drooping.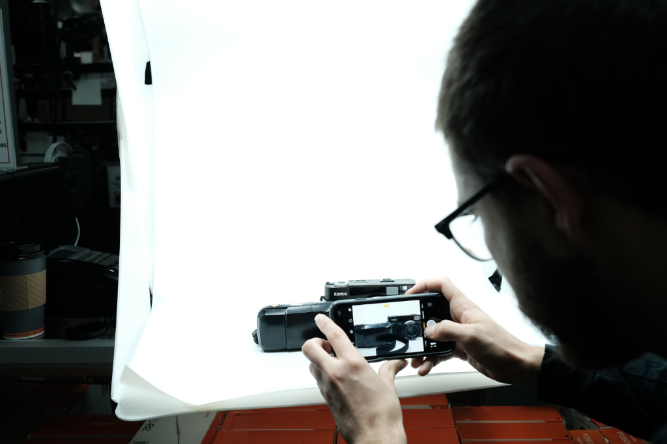 The Foldio3 fixes nearly all of these problems and can still be had for an excellent price point. Further than that, the third iteration of the Foldio also improves upon every aspect I enjoyed about the original. It folds up much neater – and includes room for its AC adapter for the lights that come with the box – a very nice touch. This version also has much stronger magnets that have a lot more stick to them, something that the second version had kind of missed the mark on.
The Foldio3 comes in at around 25 inches in height. I've found in practice that this is ample room for a lot of my work with a variety of different clients for their product photography needs. The only thing I could possibly want is a detachable roof element that lets me shoot from the top down – otherwise the Foldio3 fits a variety of objects comfortably.
Some of the largest improvements comes with the backgrounds that are provided with the Foldio3. The white background is solid, creaseless and is made of a sturdy plastic that doesn't attract any dust and is extremely easy to clean. I've been very impressed with the quality of pictures I've been able to take with the white background.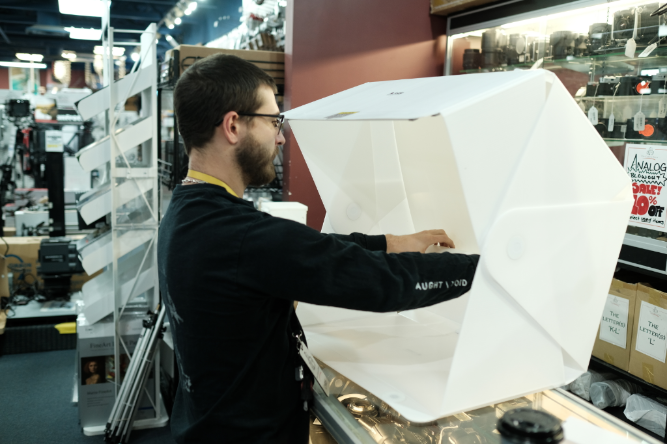 However, the black background isn't quite up to the same standard. It's made of a felt-like material and dust clings to it quite easily, making it extremely difficult to get off – even with the likes of something like a lint roller.
Despite this, I believe that the Foldio3 offers a excellent level of value to any photographer's working kit. Product shots for clients can be done on location, at a very high level with a package that is extremely portable. The Foldio3 will tackle most products very well without needing to invest into more expensive options that might not be worthwhile if you find yourself only shooting product occasionally for your clients.